Rock/Pop
Walking On Cars
Sat 22/12/18 - 21:00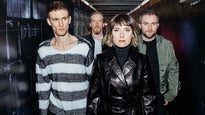 Event Information
Walking on Cars
Saturday, 22nd December 2018
Venue: INEC Killarney
Doors: 8pm | Show: 9pm
Tickets:
Standing : €30.90
Seated: €34.50
Under 16's are only permitted in the seated area and must be accompanied by an adult at all times.
About Walking On Cars
Dingle Bells this Christmas as Walking on Cars announce December 22nd date at the INEC Killarney Following on from an amazing summer of festivals, Kerry's own Walking on Cars announce their last 2018 date this Christmas at the INEC Killarney on December 22nd.   It's been two years since Dingle natives Walking On Cars released their Double Platinum selling album 'Everything This Way', Yet their music still picks up over half a million listeners of Spotify every month.  A testament to the calibre and durability of their music. Globally, they've notched up over 117 Million streams of their music on Spotify, not to mention over 53 Million YouTube views. On release of the debut album back in January 2016, 'Everything This Way' went straight to #1 in Ireland and remained in the top 10 charts for 31 consecutive weeks. Walking On Cars embarked on a tour that would see them play shows in the US, Australia, Dubai, Europe, The UK, and multiple Sold Out shows across Ireland for the next 18 months. 2017 saw the band headline shows in The Marquee, Cork, The Royal Hospital, Kilmainham, Custom House Square, Belfast and 2 nights in INEC, Killarney. Returning to the place they wrote much of the first album, 2018 has so far seen the band working on the follow up to their debut album alongside multiple European festival shows.  2019 is set to be one of the best yet! Walking on Cars will play their final Irish show of 2018 at the INEC Killarney and this is a show not to be missed.
Eat On Site
There is an array of dining options available on site at the INEC. Come early to enjoy the build-up, grab a bite to eat and head straight into the INEC. Hassle free! Here are some choices:
Sleep On Site
Accommodation Packages for this event will be published here shortly. Call our Box Office today on 064 66 71555 if you are interested in buying an Accommodation Package for this event.
Inec
Muckross Road
Killarney
Co.Kerry
Ireland
V93V6WF
Similar events
Accessibility Information
Our Access Policy and Action Plan will make the INEC and The Gleneagle Group more accessible for people with impairments including mobility, sight, hearing, learning disabilities or any hidden impairments.
Sign up to the INEC Ezine