Country/Folk
Mike Denver
Sat 28/03/20 - 20:30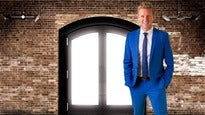 Event Information
Mike Denver  with special guests Brendan Shine and Ray Lynam
Saturday, March 28th 2020
Venue: Gleneagle INEC Arena
Doors: 7.30 | Show: 8.30
Tickets from €33.20
About Mike Denver
Mike Denver first Professional gig was in The Park House Hotel, Edgeworthstown On Saturday 11th January 2003 with his full band. This was not a full house but boy,  has he moved forward since then. His first Album was recorded in early 2003 "Wings to Fly" which included tracks "You're my Best Friend", Johnny Cash's "Cry Cry Cry" and "It's a Dream Come Through" This Album was recorded in Tony Maher's Studio in Headford and also featured base Guitarist Frankie Colohan. To date,  Mike has recorded 11 Albums namely Wings to Fly "Love to live", "Messenger Boy", "Christmas Country", "Galway Boy" "Seasons in the Sun". "Got a Funny Feeling,  "Thank God for the Radio", "Tradition" "Vintage Country and most recent "The Live Show – Double CD" .Mike has released 4 DVD'S "The Essential Galway Boy", "Christmas Country", Live in Concert Dvd which was recorded in the TF Castlebar and his current DVD recorded in Glencarn Hotel, Castleblayney "Lets Dance – The Live show".
Eat On Site
There is an array of dining options available on site at the INEC. Come early to enjoy the build-up, grab a bite to eat and head straight into the INEC. Hassle free! Here are some choices:
Sleep On Site
Accommodation Packages for this event will be published here shortly. Call our Box Office today on 064 66 71555 if you are interested in buying an Accommodation Package for this event.
Inec
Muckross Road
Killarney
Co.Kerry
Ireland
V93V6WF
Similar events
Accessibility Information
Our Access Policy and Action Plan will make the INEC and The Gleneagle Group more accessible for people with impairments including mobility, sight, hearing, learning disabilities or any hidden impairments.
Sign up to the INEC Ezine