Rock/Pop
Jack O'Rourke and Cry Monster Cry
Sat 9/03/19 - 20:15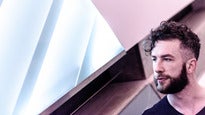 Event Information
Jack O'Rourke & Cry Monster Cry
9th March 2019
Venue: INEC Acoustic Club
Doors: 8.30pm | Show: 9.30pm
Tickets: €11.75
About Jack O'Rourke
Jack O'Rourke is one of those mercurial artists whose musical imagination and personality has made him an intriguing entity to his many fans. A songwriter who first came to prominence with his ode to misunderstood youth, 'Silence' - which became a torch song for the Irish Marriage Equality Referendum - Jack went on to release his debut album Dreamcatcher to massive acclaim, peaking at No.5 in the Irish album charts and drawing huge critical praise – Tony Clayton Lea calling it "a seriously good album from a seriously good songwriter" in The Ticket and Lauren Murphy describing it as "a highly accomplished debut" in The Sunday Times. Jack's voice - a rich baritone capable of ethereal falsetto, wraps around his tunes like a waif. Hunched around a piano, Jack is a subtle and intense performer, "showing a deftness when it comes to dissecting the minutiae of relationships and examining the human condition in a manner worthy of lyrical forebears Leonard Cohen and Tom Waits", - Don Johnston, The Irish Examiner A natural melody writer, with chord changes unexpected yet familiar, as a lyricist, Jack manages to combine that most difficult and delicate of writing traits – the ability to convey the personal whilst making it universal. A key to his success to date is having made himself identifiable to music fans of many tastes, yet still keeping enough in the background to make further investigation a necessity. From winning the Nashville-based International Songwriting Award to playing his Dreamcatcher album live with an orchestra at Cork Opera House, Jack's fledgling career has been conspicuous by its high water marks and now the songwriter is set to embark on another phase of his journey.
About Cry Monster Cry
Cry Monster Cry: Dynamic Acoustic Duo. Two Brothers who share stunning harmonies and a wonderful guitar style. Jack O Rourke: Jack O Rourke's debut album entered The Irish Album Chart at number 19 and reached no. 5 on its second week of release.With his grizzled baritone and ethereal falsetto, Jack's songs chronicle lost love, street lit avenues and open highways filled with possibility. "Jack O' Rourke's music has a grace and a glory to it that will stop you in your tracks and make you forget where you were going! "Silence" is one of the songs of the year for me... "I'll Forget You in The Morning" took me away too and the rest are close behind. Beautiful honest song writing delivered with a transporting musicality that will take you there... wherever you are going!' Fiachna ó Braonáin
Eat On Site
There is an array of dining options available on site at the INEC. Come early to enjoy the build-up, grab a bite to eat and head straight into the INEC. Hassle free! Here are some choices:
Sleep On Site
Accommodation Packages for this event will be published here shortly. Call our Box Office today on 064 66 71555 if you are interested in buying an Accommodation Package for this event.
Inec
Muckross Road
Killarney
Co.Kerry
Ireland
V93V6WF
Similar events
Accessibility Information
Our Access Policy and Action Plan will make the INEC and The Gleneagle Group more accessible for people with impairments including mobility, sight, hearing, learning disabilities or any hidden impairments.
Sign up to the INEC Ezine