Comedy
Brendan Grace Show
Sat 26/01/19 - 20:00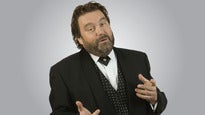 About Brendan Grace
Brendan Grace is one of the most loved Irish comedians and singers. He is known for his comedy schoolboy character "Bottler", the role of Murphy in the 1995 movie Moondance, and his 1996 appearance in the Irish TV sitcom Father Ted as Father Fintan Stack. His 1975 song, "Combine Harvester", hit number one in Ireland, and the song would later become a U.K. number one hit for The Wurzels in 1976.
Eat On Site
There is an array of dining options available on site at the INEC. Come early to enjoy the build-up, grab a bite to eat and head straight into the INEC. Hassle free! Here are some choices:
Sleep On Site
Accommodation Packages for this event will be published here shortly. Call our Box Office today on 064 66 71555 if you are interested in buying an Accommodation Package for this event.
Inec
Muckross Road
Killarney
Co.Kerry
Ireland
V93V6WF
Similar events
Accessibility Information
Our Access Policy and Action Plan will make the INEC and The Gleneagle Group more accessible for people with impairments including mobility, sight, hearing, learning disabilities or any hidden impairments.
Sign up to the INEC Ezine