New Jersey native Michael Bank is Head Brewer of Killarney Beerfest
New Jersey native Michael Bank is Head Brewer of Killarney Brewing Company now one of Ireland's most exciting new independent craft breweries and tap rooms. Under the watchful eye of General Manager Barry Spellman Killarney Brewing Company pays homage to "old school" Killarney naming their beers after local myths and legends!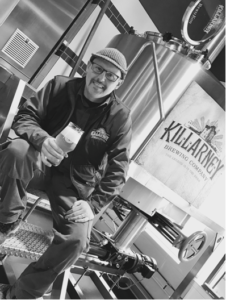 When was the company Founded / By Whom?
Founded by a couple of local Killarney friends, Tim O Donoghue & Paul Sheahan.  Both spent many years living in Chicago and this gave them a love of craft beer.  On returning to Killarney several years ago they put a plan in place and it all came to fruition just over 2 years ago.
How did you become a Brewer?
I started out working in software and used my free time to travel a lot, both in the US and in Europe. Through this I gained an appreciation for the different beer styles and eventually decided to switch careers to become a brewer.
How was it Developed/Grown?
After leaving my software job I did a brewing course in the UK at Brewlab. I then went to work as a brewer at a large craft brewery in Vermont and learned a lot about quality and how to do the everyday brewhouse operations in a seven day a week production brewery. Then I moved to a medium sized brewery in New York and worked managing the day to day brewing operations, from scheduling to raw material selection. Then most recently I set up and ran a small brewhouse in New York on Long Island. This job really tied everything together as I needed to create new beers as well as wear all the hats in the brewhouse.
Day to day brewery operations at KBC are run by Barry Spellman who has a strong background in the hospitality sector as well as food production in both the US and Ireland.  The brewery has become a new tourist attraction in Killarney and the array of beers can be found in over 200 pubs & hotels throughout Kerry as well as nationwide through many supermarket chains.
How many products do you currently produce and what are they?
We have four core beers that are available all year round and three seasonals that are available at certain times of the year.  9 out of 10 beers purchased in Ireland are lagers, therefore our Helles style Lager is our top seller.  We then have a Blonde which we refer to as a gateway beer – a gateway into craft beer and Hop flavour.  It's a golden Ale with very subtle but noticeable Hop flavour and aroma.  We also have an IPA, an Oatmeal Stout as well as seasonals that are available for limited release – Saison in Summer, Marzen in Autumn and a Belgian Brown Ale for Christmas.  All are proving very popular
Which beer was your first craft beer?
Something from Triumph Brewing Co- a brewpub near where I lived in the US
What is you most recent product development?
We are working on an Irish Red Ale, it's a classic Irish style but we will have our own twist on it.  We are also working on a real tasty sessionable pale ale among others. Can't give away all our NPD secrets!
How do you decide on new beers to brew?
We generally study and follow market trends, we look a lot to the US and what's in fashion, moving as well as up and coming.  There are also certain beer styles to match the seasons e.g. A Saison in Summer and A Marzen in October.
What's the style most fun to brew?
Saison, it is a great style with so many interpretations. Easy to make but hard to perfect.
If there were a beer that you could brew with no regards to cost or production or sales, what would it be and why?
A Wild Ale fermented with a yeast strain isolated from Irish farmland and aged in oak barrel.
If you're not drinking your own beer, what's your favourite to drink?
Orval would be my desert island beer.  It's brewed in Belgium in a brewery that started in 1931.
What's your favourite food to eat with beer?
That would really be dependent on the style of beer but I would say a tender pork loin is a favourite when I have a red ale to drink.  Food and Beer pairing is becoming very popular and different to wine there are two trains of thought on how to pair them.  Some say go with like for like, as in sweet beer with sweeter food or go opposite, a light beer with stronger flavour food.  The beer then acts as a palette cleanser.  It's very much up to one's personal choice and the food choice being consumed.
What are the biggest impediments to the growth of craft beer?
Really we would say it's the large multinational Macro breweries, they have such deep pockets when it comes to mass marketing and have a huge influence over the industry.  It's always an uphill battle and that's why we focus on the consumer in order to get them to influence the publican to broaden their range.  It's a slow burner but if you look to other markets where the craft beer industry is a lot more mature than Ireland's there is huge room to grow.
We need help obviously and it would be great to see the government agencies embrace this industry a little more. We are creating employment, not only in the breweries but also the feeder industries like grain growers & suppliers, parts suppliers, transport logistics etc.  There is such a thing as Beer tourism and if it's supported properly Ireland can be known for producing high quality beers to coincide with our reputation of a food island.
Which other brewery has inspired you the most?  Why?
Allagash Brewing and Smuttynose Brewing. Both were early American craft breweries that have stayed independent and grown at their own pace while continuing to make flavorful core beers and also innovate on new beers.
What is one piece of advice you'd give to someone who thinks they want to get into the craft beer industry?
Take a brewing course or study for an accreditation. There are more and more training programs popping up and they can help one to gain a firm command of the basics of brewing and beer quality so that you can go into the business with that already in your head.
Are you looking forward to our Festival this month?
Yes it's a fantastic festival and if Mother Nature shines on us again it will be bigger and better than previous years.  The Killarney Beerfest is different to others around the country that we typically attend; it's a great atmosphere in an amazing setting.
Where can someone find your beers?
Pretty much every pub, hotel and off licence in Killarney and many places around Kerry, Cork, and Limerick.  We are also available in bottles in many Carryouts, SuperValu, O'Brien's off licenses nationwide.  If you don't see it, ask for it
Tickets