Meet Donegal based Kinnegar Brewing!
From one end of the country to the next, Donegal based Kinnegar Brewing are here to defend their title and repeat the success of Flying Saucer in this year's awards.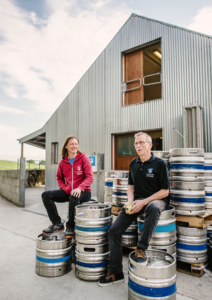 When was the company Founded / By Whom.
Kinnegar Brewing was founded in 2011 by Rick LeVert and Libby Carton.
How did you become a Brewer?
Largely through curiosity and a desire to create interesting and challenging jobs for ourselves.
How was it Developed/Grown?
We began with a 50L pilot facility at the house and used it to learn how to brew and to develop and test market our first four beers. In 2013 we moved up to commercial scale in our 10HL brewery. We are currently commissioning K2, our new 35HL brewery.
How many products do you currently produce and what are they?
We have a core range of 7 beers and make a range of five or six recurring specials, as well as a constant stream of new specials. Full listing attached.
Which beer was your first craft beer?
We developed Limeburner, a pale ale, and Devil's Backbone, an amber, at the same time. Limeburner probably won the race by a whisker and gets the official "first" accolade.
What is you most recent product development?
We made a very nice New England style IPA called Big Bunny earlier this year.
How do you decide on new beers to brew?
It's a combination of what we're interested in and curious to try, and what complements the existing range we make.
What's the style most fun to brew?
Scraggy Bay and Crossroads are both fairly quick so they're fun in that they shorten the day! Our rye beers are difficult and time-consuming. New beers are always fun and a challenge.
If there were a beer that you could brew with no regards to cost or production or sales, what would it be and why?
Probably Black Bucket. Sales wouldn't be a problem but cost would be!
If you're not drinking your own beer, what's your favourite to drink?
Good Belgians.
What's your favourite food to eat with beer?
Good food!
What are the biggest impediments to the growth of craft beer?
Discrepancies in the quality of products is a problem. If a consumer tries a "craft" beer for the first time and has a negative experience, they're most likely lost to the cause. The quality of Irish beer is rising exponentially but it's still quite inconsistent.
Which other brewery has inspired you the most?  Why?
Tough to put a finger on just one. We certainly admire Russian River a lot for remaining true to their concept and making spectacular beers, but that's a pretty easy one to pick.
What is one piece of advice you'd give to someone who thinks they want to get into the craft beer industry?
There is nothing, absolutely nothing romantic about being a brewer and it is a very hard way to make a living. Approach it as a business from the outset.
Are you looking forward to our Festival this month?
Very much. Although it's a very, very, very long journey from the Fanad Peninsula to Killarney.
Where can someone find your beers?
Throughout the country in good independent off licenses, pubs and restaurants.
Tickets