Event Information
The Saw Doctors reschedule their December 27th date
Saturday, March 25th 2017
Venue: INEC Killarney
Doors:  8.00pm
Show: 9.00pm
Tickets: €27.90
Tickets for the cancelled concert will need to be changed for the new date – old tickets will not be valid. Please contact the Box Office for more information if needed on 064 6671555.
About The Rise and Rise of the Healy Raes
The Healy-Raes are embarking on a world tour of Kerry through a new play written by Killarney storyteller and actor Ray O'Sullivan. 'The Rise and Rise of the Healy-Raes' is the  hilarious and sometimes poignant story of batchelor brothers Densey and PJ Doona who appear time-locked in a life of loneliness and celibacy in their small family farm in Kerry. But foreign women, love, elections and politics combine to change their lives, with the well-oiled Healy-Rae machine at the centre of the miraculous transformation. The play's world tour of Kerry runs for six nights at six different venues across Kerry, opening at Beaufort Community Centre on March 11th and finishing at St John's Theatre in Listowel on April 20th. It's the first time the remarkable story of Healy-Rae politics has been crafted into a dramatic production for stage. Written by Ray O'Sullivan, it's the Cork native's first full-length play. O'Sullivan, who also stars the play,  is no stranger to the stage and has earned a reputation as an original and talented storyteller, seanchaí and actor. The play is directed by Aidan O'Connor, journalist and writer/director of the hit drama 'Patrick' which had  a phenomenal run in Kerry last year. "The story of the Healy-Raes is one which has been told in many ways over the years, but this is the first time it's being played out on stage. In many ways, it was a drama waiting to unfold," Ray O'Sullivan said. Director Aidan O'Connor said  "Ray O'Sullivan has shown tremendous bravery in tackling such a well-known yet gigantic movement as the Healy-Raes. What he has done is pen a very funny and moving piece of work that Kerry audiences will thoroughly enjoy."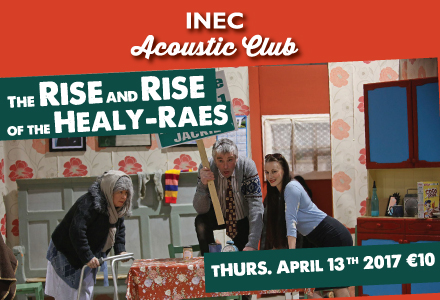 Food & Drink
There is an array of dining options available on site at the INEC. Come early to enjoy the build-up, grab a bite to eat and head straight into the INEC. Hassle free! Here are some choices:
Accommodation Package
Accommodation Packages for this event will be published here shortly. Call our Box Office today on 064 66 71555 if you are interested in buying an Accommodation Package for this event.
You have an error in your SQL syntax; check the manual that corresponds to your MariaDB server version for the right syntax to use near 'AND ticketmaster_events.ArtistIDs <> '' ORDER BY rand() LIMIT 3' at line 3