Country/Folk
Sharon Shannon
Sun 6/08/17 - 21:00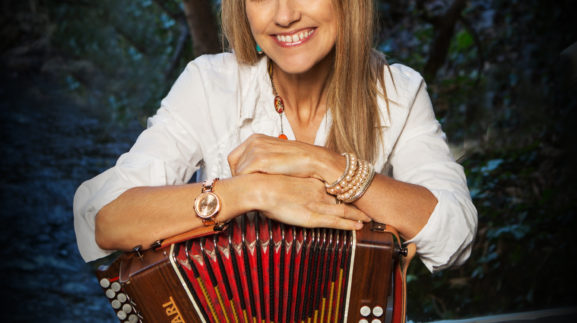 Event Information
Sunday, August 6th 2017
Venue: INEC Killarney
Doors 8pm | Show 9pm
Tickets:
Adults: €22.90
Child: €10
Sunday: €55.80
Free for residents of the Gleneagle Hotel & Apartments
About Sharon Shannon
Sharon Shannon the button accordion player from Co Clare, Ireland has recorded and toured with a who's who of the Irish and Global Music Industry, including Bono, Adam Clayton, Sinead O'Connor, Jackson Browne, John Prine ,Steve Earle, The RTE Concert Orchestra, The Chieftains, The Waterboys, Willie Nelson, Nigel Kennedy, Alison Krauss and Shane MacGowan. Her 12 studio recorded albums to date have all been very different and ground breaking mixing traditional Irish with reggae, country, Native American, bluegrass, rap, dance, African, French Canadian. The genre-defying star has had multi-platinum album sales and has had several number one albums, singles and DVDs in her home country. Her album Galway Girl went 4 times platinum in Ireland with the title track winning her the Meteor award two years running for the most downloaded song. Sharon grew up in a rural community and was part of a family that all play musical instruments and traditional Irish music. In March 2017, Sharon released her 10th studio album Sacred Earth. A ground breaking album once again from Sharon. Produced by Justin Adams, this album mixes Irish music with African and blues and features celebrated African Musicians Abass Dodoo and Seikou Keita as well as special guests including Finbar Furey and Alyra Rose.
Eat On Site
There is an array of dining options available on site at the INEC. Come early to enjoy the build-up, grab a bite to eat and head straight into the INEC. Hassle free! Here are some choices:
Sleep On Site
Accommodation Packages for this event will be published here shortly. Call our Box Office today on 064 66 71555 if you are interested in buying an Accommodation Package for this event.
Similar events
Accessibility Information
Our Access Policy and Action Plan will make the INEC and The Gleneagle Group more accessible for people with impairments including mobility, sight, hearing, learning disabilities or any hidden impairments.
Sign up to the INEC Ezine