Country/Folk
Rolling Back The Years - Legend Of The Cork Showband Era
Sat 14/10/17 - 21:30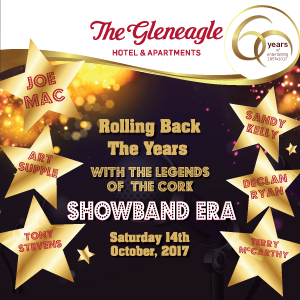 Event Information
Rolling Back The Years With The Legend Of The Cork Showband Era
Featuring:
Tony Stevens, Art Supple, Joe Mac, Terry McCarthy of The Dixies  & Special Guests:  Sandy Kelly & Declan Ryan and a 7 piece band
Saturday, October 14th 2017
Venue: Gleneagle Ballroom
Doors 8.30pm | Show 9.30pm
Tks: €25.00
Residents of the Gleneagle Hotel: Free
About ROLLING BACK THE YEARS
Eat On Site
There is an array of dining options available on site at the INEC. Come early to enjoy the build-up, grab a bite to eat and head straight into the INEC. Hassle free! Here are some choices:
Sleep On Site
Accommodation Packages for this event will be published here shortly. Call our Box Office today on 064 66 71555 if you are interested in buying an Accommodation Package for this event.
Similar events
Accessibility Information
Our Access Policy and Action Plan will make the INEC and The Gleneagle Group more accessible for people with impairments including mobility, sight, hearing, learning disabilities or any hidden impairments.
Sign up to the INEC Ezine