Comedy
Dermot & Dave - The AH Sure ,Look It Tour
Thu 16/03/17 - 20:30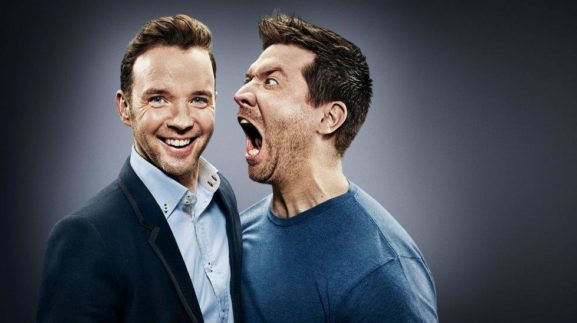 Event Information
Thursday, March 16th 2017
Venue: INEC Killarney
Doors: 7.30pm
Show: 8.30pm
Tickets: €29
About Dermot & Dave
Today FM duo takes to the roads of Ireland with hilarious new comedy show and perform at the INEC Killarney on March 16th 2017 Today FM's lunchtime presenters Dermot & Dave this week announced a brand new nationwide comedy tour set to hit venues across the country from March 2017. Entitled the 'Ah Sure Lookit' tour, Dermot Whelan and Dave Moore debuted their comedy show at the first Cork Comedy Festival in September of this year and the following month at the Vodafone Comedy Carnival in Galway. Both shows sold out in record time. This is the first time the pair has taken to the stage for a comedy gig but they're well used to each other, having worked together in radio for over 12 years. The tour will take in almost every corner of Ireland with 15 dates scheduled from March to 2017. Asked what people can expect from their stand up show, Dermot Whelan said: : "Imagine a bonkers radio show that grows legs and arms and a head and starts firing out craic and waving its arms like an angry King Kong in that movie. Not even close." Dave Moore commented: "It's all our listeners' favourite characters, stand-up, improvised comedy, music and an interactive gardening segment – what's not to love?!" Listeners to The Dermot & Dave Show on Today FM will be familiar with their weekly 'Ah Sure Lookit' feature where friend of the show 'Mac from Carlow' gives random clues and people are asked to guess what it is Mac is talking about. Although the comedy show has nothing to do with the feature, the lads just like the name!
Food & Drink
There is an array of dining options available on site at the INEC. Come early to enjoy the build-up, grab a bite to eat and head straight into the INEC. Hassle free! Here are some choices:
Accommodation Package
Accommodation Packages for this event will be published here shortly. Call our Box Office today on 064 66 71555 if you are interested in buying an Accommodation Package for this event.
Similar events
Accessibility Information
Our Access Policy and Action Plan will make the INEC and The Gleneagle Group more accessible for people with impairments including mobility, sight, hearing, learning disabilities or any hidden impairments.
Sign up to the INEC Ezine