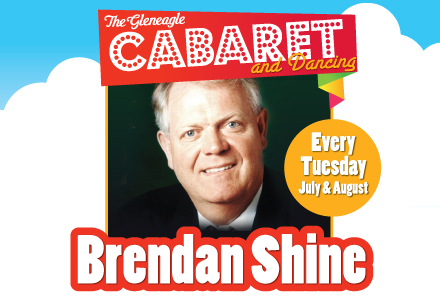 Event Information
Every Tuesday night for July & August!
July 4th/11th/18th/25th
August 1st/8th/15th/22nd
Tickets:
Non-Residents
Adults €15
Children €5
Family (2+2) €35
Gleneagle/Brehon Residents Free
Scotts residents €10
Venue: Gleneagle Ballroom
Doors 8.30pm
Show: 9.30pm
Eat On Site
There is an array of dining options available on site at the INEC. Come early to enjoy the build-up, grab a bite to eat and head straight into the INEC. Hassle free! Here are some choices:
Sleep On Site
Accommodation Packages for this event will be published here shortly. Call our Box Office today on 064 66 71555 if you are interested in buying an Accommodation Package for this event.
You have an error in your SQL syntax; check the manual that corresponds to your MariaDB server version for the right syntax to use near 'AND ticketmaster_events.ArtistIDs <> '' ORDER BY rand() LIMIT 3' at line 3