About Killarney Walking Festival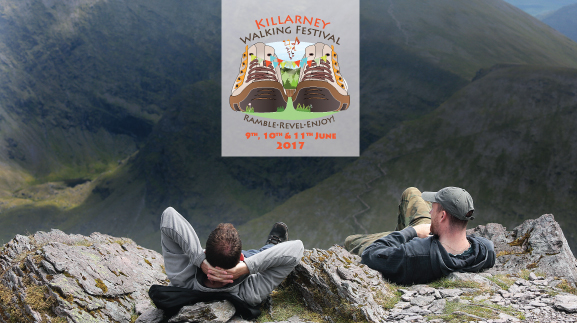 Discover the hidden valleys, mountains, reeks, lake shores and all that is beautiful and untamed about Kerry and Killarney National Park.
Steeped in history and full of unique character whether your interest is in history, culture, wildlife or simply walking and indulging in the breath-taking scenery, The Killarney Walking Festival June 9th-11th 2017 has it all with The Gleneagle Hotel and Apartments as your festival base.
This festival is for everyone - families, walking clubs and anyone who loves the great outdoors. The schedule of walks has something for all ages and abilities, from strenuous category three hikes to easy low level category one walks. From the challenging McGillycuddy's Reeks hike to the leisurely wood trails and Innisfallen Island by boat. There are 10 guided walks to choose from in all.
All walks and treks will start from The Gleneagle Hotel with its perfect vantage point and easy access to The National Park. So if you fancy an active weekend out and about in the hills and mountains of Kerry enjoying the beautiful scenery, the Killarney Walking Festival is the perfect opportunity.
Accessibility Information
Our Access Policy and Action Plan will make the INEC and The Gleneagle Group more accessible for people with impairments including mobility, sight, hearing, learning disabilities or any hidden impairments.
Want to book your tickets by phone?
Telephone and internet bookings subject to a surcharge
Sign up to the Killarney Walking Festival Ezine